Andrews, N. and Hoggett, P. (2019). Facing up to ecological crisis: a psychosocial perspective from climate psychology. In Foster, J. (Ed.) Facing up to climate reality: honesty, disaster and hope. London: Green House Publishing.
Bendell, J. (2018). Deep adaptation: A map for navigating climate tragedy. IFLAS occasional Paper 2. Www.iflas.info. 
Blom, P. (2017). Wat op het spel staat. De Bezige Bij. Wat als een historica over vijftig jaar terugkijkt naar het begin van de 21ste eeuw? Zij zal versteld staan dat wij verblind door onze dagelijkse beslommeringen en ons korte termijnperspectief ? de twee grootste bedreigingen die homo sapiens te wachten stonden niet zagen: een wereldomvattende klimaatcrisis met alle gevolgen van dien, en de digitalisering van arbeid die leidde tot massawerkloosheid en een algeheel verlies van zin en betekenisgeving.
Bradbrook, G. (2018). Heading for extinction and what to do about it. Talk on Extinction Rebellion YouTube channel. 
Climate Psychology Alliance UK, www.climatepsychologyalliance.org
Zie ook https://www.climatepsychologyalliance.org/handbook/363-climate-psychology-reading-list
Gillespie, S (2019). Climate Crisis and ConsciousnessRe-imagining Our World and Ourselves.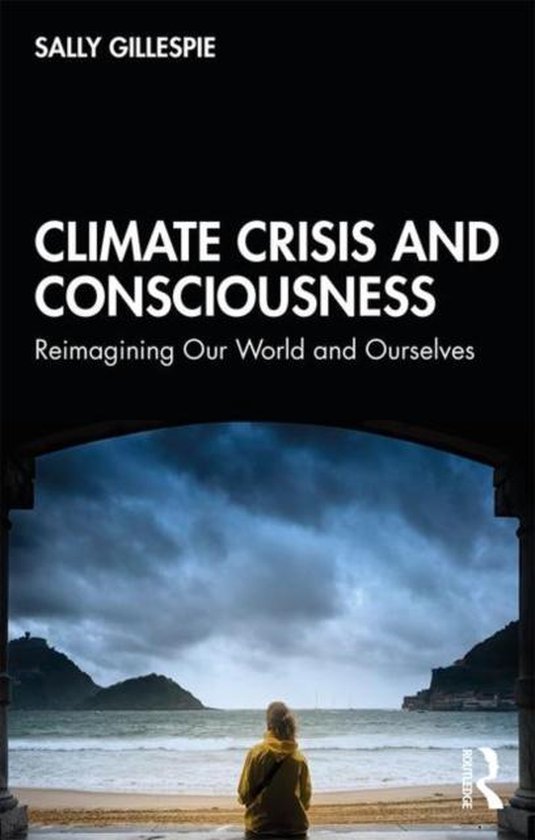 Routledge.  This accessible book with its discussions about worldviews, cultural myths, emotional resilience, social connectedness, nature relatedness and collective action explores consciousness change in those engaged with climate issues. 
Guardian: Anxiety and biscuits: the climate cafes popping up around the world https://www.theguardian.com/environment/2021/sep/04/anxiety-and-biscuits-climate-cafes-popping-up-around-world?utm_term=6fe8e0a7c7fe79c66b067aeb304bca88&utm_campaign=GuardianTodayUK&utm_source=esp&utm_medium=Email&CMP=GTUK_email
Hoggett, P. and Robertson, C. (2018), Climate psychology: a big idea. In Flynn, H. (Ed.). Four go In search of big ideas. Social Liberal Forum.
Hoggett, P. (Ed.) (2019). Climate psychology: on indifference to disaster. London: Palgrave Macmillan.
Jones, R. (2020). I took my turn on Friday to be arrested. The psychologist.  https://thepsychologist.bps.org.uk/volume-33/december-2020/i-took-my-turn-friday-be-arrested
Lertzman, R. (2015). Environmental melancholia. London: Routledge.
Anatol Lieven (2021), Climate Change and the Nation State, the realist case. Penguin.
Macy, J. & Johnstone, C. (2012). Active Hope: How to face the mess we are in without going crazy. New World Library
Andreas Malm (2020), Corona, war communism in the twenty-first century, climate, chronic emergency. Verso, London, New York.
Michael Mechanic (2021), Jackpot, How the Super-Rich Really Live-and How Their Wealth Harms Us All. Simon and Schuster.
Dominic Pettman (2016), Infinite Distraction: Paying Attention to Social Media (Theory Redux). Polity press. 
Bill Plotkin (2021), The Journey of Soul Initiation, field guide. New world library, California.
Read, R. (2018). Shed A Light: This civilisation is finished: so what is to be done youtube.com/watch?v=uzCxFPrdO0y
Spratt, D. & Dunlop, I. (2018).What lies beneath: The understatement of existential climate risk. Breakthrough National Centre for Climate Restoration.
Robin Wall Kimmerer (2015), Braiding Sweetgrass,Indigenous Wisdom, Scientific Knowledge and the Teachings of Plants. Milkweed Editions. 
Weintrobe, S.(2021) Psychological Roots of the Climate Crisis: Neoliberal Exceptionalism and the Culture of Uncare. Bloomsbury. This book helps us to recognise the uncaring imagination in politics, in culture – for example in the writings of Ayn Rand – and also in ourselves.
Sally argues that achieving the shift to greater care requires us to stop colluding with Exceptionalism, the rigid psychological mindset largely responsible for the climate crisis. People in this mindset believe that they are entitled to have the lion's share and that they can 'rearrange' reality with magical omnipotent thinking whenever reality limits these felt entitlements. Listen to this wonderful discussion with Dr Niamh Shaw. 
Weintrobe, S. ed. (2012). Engaging with climate change, psychoanalytic and interdisciplinairy perspectives. Routledge.
Tyson Yunkaporta (2020), Sand Talk, How indigenous Thinking can save the world. Harper One, New York, US.